WWP Beauty unveils new sustainable packaging and turnkey solutions at Luxe Pack LA
February 24, 2023
The company launches SOS Ocean, EcoLuxe, MonoPump Airless packaging collections, and the Beauty Express Turnkey solution.
(Los Angeles, CA) – WWP Beauty, a leader in eco-conscious packaging and turnkey solutions for the beauty industry, has announced the launch of its sustainable and eco-smart collections that includes ocean plastic, high-end mono-material, and refillable packaging solutions, as well as a turnkey collection of mindful product formulations.
Musa Dias, WWP Beauty CMO and Global head of Innovation, commented, "these product introductions are part of WWP Beauty's ongoing commitment to "Beauty with Purpose." With sustainability at the core of its mission, WWP Beauty is working to provide customers with innovative packaging solutions that minimize environmental impact without compromising quality or design."
WWP Beauty's new Eco-conscious Collections include:
SOS Ocean – The Beauty of Diversion!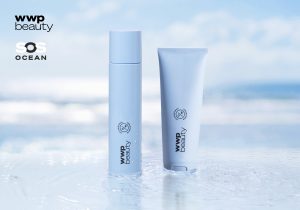 The SOS Ocean Collection features a tube and a toner bottle made from ocean-bound plastic waste that has been recovered and recycled from Asian shores, contributing to reducing waste and a more circular beauty system while keeping our oceans safe and beaches clean.
The 40mm Ocean Plastic Tube is mono-material, designed with 70% PCR Ocean plastic. It uses 12% less plastic and 77% less CO2e per piece than a standard tube. It features a flip-top closure and a luxurious soft-touch matte finish. The tube is also available in 30 and 50mm diameters.
The mono-material Toner Bottle uses 52% fewer CO2e emissions per piece. For every 1M units of Ocean Plastic Toner Bottle produced, 115.899 Tons of CO2e are avoided.
EcoLuxe – Elevated Sustainability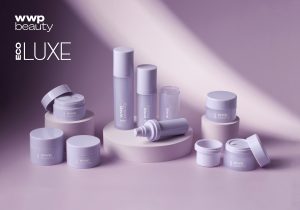 A collection of stylish and eco-smart packaging designs ideal for skin and hair care products.
50mL Refillable Jar designed with 100% PP mono-material. Recycle-ready.
30 and 50mL Refillable Airless Pump designed with a mono-material PP structure and traditional airless dispensing 
30 and 50mL Airless Jar with luxurious design and gesture. It provides user-controlled dosage and formula integrity. Simply push down the dispensing button to get the proper dosage!  
MonoPump Verge and Arch Collections – Sustainable and Functional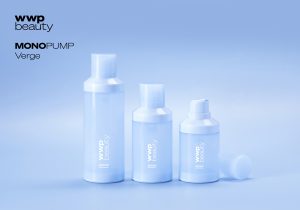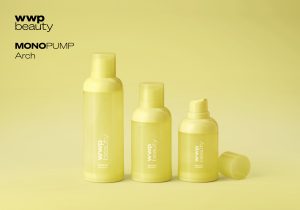 The Verge and Arch Pumps feature a sustainable, metal-free, and eco-smart packaging design made entirely of 100% PP material parts. These airless pump systems are ideal for dispensing high-viscosity formulas while helping to preserve formula integrity.
The Verge collection features a unique design with angular shoulders. Available in 30, 50, 70, 100, and 120mL.
The Arch collection features a timeless design with a rounded collar. Available in 30, 50, 70, 100, and 120mL.
Express Beauty – Makeup in a Snap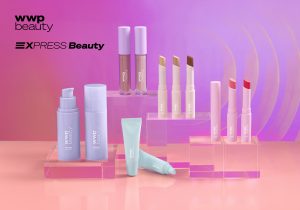 The Express Beauty Collection is an effortless system of multi-tasking, time-saving, and on-the-go beauty essentials designed to deliver makeup routines in-a snap.
Express Beauty embraces and highlights your unique features, promoting self-expression and skin positivity rather than unrealistic perfection.
Our skin-first, clean, hybrid formulas are packed with superhero ingredients that hydrate, brighten, and protect the skin and are featured in sustainable packaging solutions.
Express Beauty also includes a sustainable and stylish pouch bag designed in recycled cork and vegan leather material.
Glow On Serum: This lightweight, clean, transformative formula effortlessly smooths on to neutralize dull and tired skin, boost hydration, and reveal healthy and radiant-looking skin.
Time Stopper Concealer Stick: Clean and creamy formula glides on like a second skin, delivering all-day wear without creasing. It doubles up beautifully as a brow bone highlighter and a face shaping too!
EZ Eye Base & Primer: This multi-purpose, clean, and long-lasting formulation can be used as an eyelid base, eye primer, and under-eye concealer. It minimizes the appearance of fine lines and conceals skin imperfections, maximizes eyeshadow hold, boosts color impact, and prevents it from creasing, smudging, or transferring.
Express Color Stick: Create the ultimate monochromatic makeup look quickly and easily with this all-over color stick! This multi-purpose stick features a clean formulation infused with skin-loving ingredients and universal shades ideal for all skin tones.
Ready-to-Go Glossy: Experience the lightweight and no-stick feel of this multi-purpose, all-over gel that glides on easily, providing skin with an ultra-glossy finish. It can be used alone or as a base to render a luminous effect.
With these new products, WWP is helping brands switch to more environmentally responsible packaging and formulations while still delivering on style, trend, and quality.
About WWP Beauty
Together we Create Beauty with Purpose
WWP Beauty is committed to creating Beauty with Purpose by developing innovative sustainable, future-focused solutions for the global beauty industry through close collaboration, exceptional agility, and unparalleled scale.
Through a worldwide team of beauty experts that spans North America, EMEA, and APAC, we offer our customers global support at the local level.
Our company's full-service offering of mindful turnkey formulations, eco-smart packaging designs, and accessories paired with our in-house manufacturing, integrated network, and superior quality allows us to stand out as "The Partner for Beauty with Purpose."
To learn more, visit our website at www.wwpbeauty.com.
---